The Basics of Exercise Physiology: Improving Wellness through the Benefits of Exercise

5.7 Contact Hours

To successfully complete this course and receive your certificate, you must read the content online or in the downloadable PDF, pass the post test with a 70% or better, and complete the evaluation form by April 1, 2024.
You will only be asked to pay for the course if you decide to grade the post examination to earn a certificate with contact hours.
Corexcel is accredited as a provider of continuing nursing professional development by the American Nurses Credentialing Center's Commission on Accreditation (ANCC).
It is Corexcel's policy to ensure fair balance, independence, objectivity, and scientific rigor in all programming. In compliance with the American Nurses Credentialing Center (ANCC) we require that faculty disclose all financial relationships with commercial interests over the past 12 months.
No planning committee member has indicated a relevant financial relationship with a commercial interest involved with the content contained in this course.
Corexcel's provider status through ANCC is limited to educational activities. Neither Corexcel nor the ANCC endorse commercial products.
Course Objectives
After completing this course participants should be able to:
Recognize basic principles of exercise physiology.
Identify fundamental transient adaptations of different systems in response to exercise.
Identify fundamental permanent benefits of different systems in response to exercise.
Utilize the knowledge gained in the course to identify possible morbidity/mortality risks in individuals due to their response to exercise.
Apply the principles of exercise physiology to prescribe exercises that prevent or decrease certain chronic conditions.
Apply the principles of exercise physiology to prescribe exercises that allow a person to attain maximum results in pursuit of their goal.
Introduction
To maintain a healthy lifestyle, the importance of physical activity can not be underestimated. It is the single most important endeavor that one can participate in to promote health throughout a lifetime. For decades, epidemiological research has accumulated highlighting the health benefits associated with regular physical activity. Furthermore there is overwhelming research illustrating the morbid and mortal consequences of being sedentary. Benefits of a proper exercise regimen include: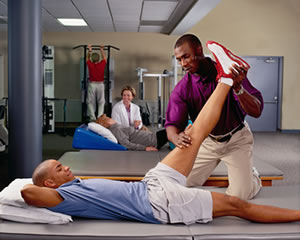 1. Increase in the efficiency of cardiovascular and respiratory function
2. Reduction in coronary artery disease risk factors
a. Reduction in blood pressure
b. Increase in HDL and decreased triglycerides
c. Reduction of body fat
d. Reduced insulin needs, improved glucose tolerance
Decreased incidence of type II Diabetes
3. Decrease in mortality and morbidity
a. Decreased incidence of Coronary/vascular disease
b. Decreased chance of cancer
Breast
Prostate
Lung
Colon
c Decreased chance of osteoporosis
d. Increased balance
Decreases incidence of falling
4. Decreased anxiety and depression
5. Enhanced performance of work, recreational, and sports activities
6. Enhanced feelings of well-being
Undoubtedly, results reaped from participating in regular physical activity are second only to those of the fountain of youth. It is the only lifestyle choice that not only adds years to one's life, but adds life to one's years.
Within the general population, the health benefits associated with increases in physical activity are potentially mammoth. Chronic diseases, their complications, and associated costs would be lowered drastically if our sedentary population simply became more active. Perhaps the most promising information regarding physical activity and health is the fact that the most significant health benefits of exercise are seen in those sedentary individuals who become moderately active. Furthermore, physical activity need not be vigorous to attain health benefits. This mounting epidemiological research is bringing about increasing momentum to promote regular physical activity as a means of preventative medicine.
The following course explores the basic physiological responses to exercises, both transient and permanent. It will examine the different systems of the body and how they are uniquely affected by exercise. Furthermore, the course goes on to explain how the health care professional may use this knowledge of exercise physiology to identify morbidity risks, treat certain chronic conditions, and maximize benefits brought about by regular physical activity.
The healthcare professional involved with exercise promotion or education should have a fundamental understanding of the dynamics involving exercise physiology. Insight of how our bodies physiologically respond to exercise and the insuing benefits that result will help the professional in the matter of patient education. Armed with this knowledge they are not only better able to prescribe an appropriate activity, but allow the patient to experience maximized benefits.