A Gluten-Free Life
When someone is first diagnosed with celiac disease, there can be a myriad of emotions. The patient might feel relief that there is finally an answer for the many unanswered health issues. There might be shock, fear, or grief over the strict, gluten-free diet that must be followed. As the patient begins to realize how much gluten is in the world, there might be depression over the social aspect of the disease. Food, especially gluten-filled food, marks almost every social gathering and celebration, and now concessions will need to be made by the patient to adapt to the situations. They might have to bring their own food or abstain from eating at social gatherings. Grief is a very common reaction and must be acknowledged for this large lifestyle change.
Many changes and challenges will occur around the household. There are some steps that can be taken to ease the lifestyle transition: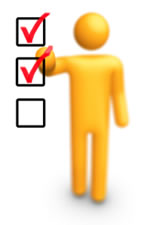 Prepare gluten-free meals ahead of time and store in the freezer.
Teach children to read food labels and find ingredients containing gluten.
Keep track of medicines that cause symptoms to flare (e.g. Ibuprofen and Claritin).
Be aware of the menu at social gatherings and take gluten-free options, if necessary.
Life is not easy for the patient who has to stop eating gluten, but as society, the food industry, and the medical community become more aware of the issue of using gluten as filler, life may become easier. It has already improved in just the last ten years, when there was very little choice in food. Food labeling legislation is making its way through the food laws so that those with celiac disease will be more informed of the gluten content of food.
Summary
Since being diagnosed, the child described in the earlier case study has felt almost complete relief from the painful, itchy rash caused by celiac disease. She has been gluten-free for one year, though it continues to be a learning process.
As members of the medical community, it is our job to take responsibility and learn about celiac disease. We need to be able to include it in the differential diagnosis when we are dealing with patients who have blistery rashes and for those with chronic digestive problems. We need to cut down the current diagnosis time from nine years so that suffering and permanent damage are lessened. We need to be advocates for these patients who have felt misunderstood, isolated, and hopeless for so long. As we learn more about celiac disease, we need to continue teaching others about this misdiagnosed and misunderstood condition.
Resources
There are many resources available for the patient and medical professional wishing to learn more about celiac disease. These are just a few:
www.celiac.org - The Celiac Disease Foundation
www.cureceliacdisease.org - The University of Chicago Celiac Disease Center
www.beyondceliac.org - Beyond Celiac
References
1. Bower, Sylvia, et. al. Celiac Disease: A Guide to Living with Gluten Intolerance. New York: Demos Medical Publishing, 2007.
2. Bronski, Peter, and Melissa Jory. The Gluten-Free Edge. New York: The Experiment Publishing, 2012.
3. Green, Peter, and Rory Jones. Celiac Disease: A Hidden Epidemic. New York: Harper Collins Publishers, 2010.
4. James, Dustin and Liz Scott. The Complete Idiot's Guide to Digestive Health. New York: Penguin Group, 2010.