What is Customer Service/Customer Satisfaction?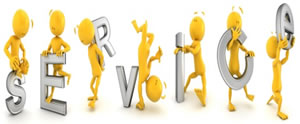 As we begin this program, I want you to know that I would like your involvement because you, too, are often a customer. Knowing that, you may find that some of your learning will be based upon your own personal knowledge and experience as a customer. With that in mind, I would like to invite you to take a few minutes to answer the question: What is customer service? See if you can write down at least three different answers. Think about your experiences in different places where you go for service such as a restaurant, the doctor's office, car repair shop, etc. Give yourself about ten minutes to write down your answers. Well, how did it go? Maybe this was the first time you have ever really thought about customer service. That's okay... I hope this exercise got you thinking. Now let's take a look at some definitions that are out there in the literature:
Customer service is a philosophy in which all employees feel and act accountable for creating satisfied customers.
Customer service means projecting a positive image. (Anonymous)
From the customer's point of view, if they can see it, walk on it hold it, hear it, step in it, smell it, carry it, step over it, touch it, use it, even taste it, if they can feel it or sense it, it's customer service. (Super American Training Program)
Consistently creating enjoyable experiences so that people want to tell all their personal contacts about how great your organization is.
Shouldn't it really be called customer helping rather than customer service? AND wouldn't you deliver better service if you thought of it that way?
Did any of these definitions match yours? No? Well, how about a few more to ponder? Here we go!
Customer service is those principles and processes that combine to give your customer a warm feeling of satisfaction, maybe even joy from interacting with your organization.
Customer service is not rocket science. It is giving the type of treatment you hope a family member would receive when dealing with a seller.
Customer service is a 24-hour deal!
Are we on the same wavelength yet? I hope so. But, if not, I have a few concluding thoughts for you. One comes from Michael Baber of Integrated Business Leadership Through Cross Marketing. I want to give Mr. Baber credit because he has created Baber's Rules of Customer Service, which go like this:
Make the customer feel heard.
Make the customer understood.
Make the customer liked.
Make the customer respected.
Make the customer feel helped.
Make the customer appreciated.
I also like Jeff Gittomer's quote in his book titled Customer Satisfaction is Worthless, Customer Loyalty Is Priceless, p.90: "If you will just be real, be friendly, and be WOW (give great service)! You are half way up the ladder to customer loyalty and personal success beyond your wildest dreams."
You may now have a fairly good idea of what customer service is all about so what about customer satisfaction? Before we tackle that topic, I have another short exercise for you to do to set the mood. Come on now...it'll be fun! I'd like you to think of recent situations where you were a customer and received outstanding service and then situations where you received less than desirable (dare I say shoddy?) service. This exercise is always more fun if you can talk to others about similar situations they experienced so go ahead and network with others. Try to identify specific characteristics of each kind of service type...outstanding and shoddy. Making up contrasting lists would be ideal. Now that you have your lists in front of you, I would like to offer some thoughts regarding service from the customer's perspective:
Good service only becomes great service when the customer says it is great!
Consistent high quality service boils down to two things: caring and competence (Chip R. Bell and Ron Zemke, Service Wisdom)
Good service is not smiling at the customer, but getting the customer to smile at you.
Organizations that focus on superior service turn out to be all around better and successful than those that treat customers like the enemy and customer service as either a grudging afterthought or a necessary evil.
Do you agree? Do any of the foregoing thoughts fit in with the information you have indicated on your descriptions of excellent vs. shoddy customer service that you have experienced? I hope so because customer satisfaction truly resides in the mind of the customer. To be honest, if the customer ain't happy, ain't nobody happy!
Here is an example of one satisfied customer who admits it was a very small thing that makes him tell this story over and over:
I flew to Hawaii last spring. First time. Seven hours in the plane makes a person like me a very weary traveler. I was met at the airport by my host and given the traditional lei (necklace of flowers). Fantasy fulfilled. Gritty from the plane ride, I entered the lobby of the Hawaii Prince Hotel…walk over to the desk...someone smiles at me…says "Aloha!", and gives me a hot, steamed, moist washcloth…ah! Just what I needed. WOW, what a great way to greet a customer.
After reading this anecdote, I have to ask you three questions:
1. How do you greet your customers?

2. What separates you from your competition?

3. Where's the washcloth in your job?