Summary
A basic understanding and review of immunosuppression is crucial for all healthcare providers who care for patients taking biologic therapies. Two types of immunosuppression include primary and secondary, or acquired immunosuppression. Acquired immunodeficiency has many causes such as malnutrition, HIV/AIDS, and those who take drugs to suppress the immune system. Transplant recipients, chemo patients and those who take biologics are all examples of acquired immunodeficiency.
Biologic medications are now commonplace - used all over the world and increasing rapidly. These drugs have greatly improved the management of several diseases and conditions. The majority of these new biologics are monoclonal antibodies or MABs. These MABs may be further classified as anti-tumor necrosis factor alfa drugs (anti-TNF-alpha), which carry the greatest risk of adverse effects due to immunosuppression. Patients on biologics – especially MABs and anti-TNF-alpha drugs are immunnosuppressed and should be managed as such. Several drugs have black box warnings – mostly related to TB, lymphomas and serious bacterial and fungal respiratory infections.
The nurse should always be thinking immunosuppression when managing patients on biologics, no matter what the admitting diagnosis is. Thorough assessment of the patient's medical history and medications are crucial in determining patient needs and education. The care plan should always indicate "risk for infection due to immunodeficiency" so continuity of care and appropriate education can be implemented. Since new black box warnings and recommendations are frequently updated by the FDA – sometimes years after the drug has been on the market, biologic medications must be continuously reviewed prior to administration.
Because these patients are not always placed on isolation, nurses must advocate for patients to prevent hospital acquired infections while hospitalized in terms of in-unit bed placement and staff assignments. Patient education should always include a review of the biologics, what to report, and empowering patients to advocate for themselves so they can make others aware of their immunosuppressive status.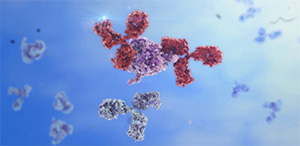 References
American Cancer Society (2015). What is Cancer Immunotherapy? Retrieved from: http://www.cancer.org/treatment/treatmentsandsideeffects/treatmenttypes/immunotherapy/immunotherapy-what-is-immunotherapy
Bands, V.E. (2007). Nursing Care of Patient with Rheumatoid Arthritis. Advanced Studies in Nursing, 2007; 5(1):27. Retrieved from: http://www.jhasin.com/files/articlefiles/pdf/bands.pdf
Bongartz, T., Sutton, A.J., Sweeting, M.J., Buchan, L., Matteson, E.L., Montori, V. (2005). Anti-TNF Antibody Therapy in Rheumatoid Arthritis and the Risk of Serious Infections and Malignancies. Journal of the American Medical Association. May 17, 2006—Vol 295, No. 19.
Carey, E. (2016) Immunodeficiency Disorders. Retrieved from: http://healthline.com/health/immunodeficiency-disorders
Centers for Disease Control (CDC) (2007). 2007 Guideline for Isolation Precautions: Preventing Transmission of Infectious Agents in Healthcare Settings. Section V.A.2. Retrieved from: http://www.cdc.gov/hicpac/2007ip/2007ip_part4.html
Dictionary.com (2016). Definition of Immunosuppression. Retrieved from http://www.dictionary.com/browse/immunosuppression?s=t
Ecker, D.M., Jones, S.D., Levine, H.L. (2015). The Therapeutic Monoclonal Antibody Market. Retrieved from: https://www.ncbi.nlm.nih.gov/pmc/articles/PMC4622599/
Enbrel.com (2016). The Clinical Experience of ENBREL has been Established through Decades of Clinical Research. Retrieved from: https://www.enbrel.com/hcp/why-enbrel/clinical-experience-history/
Fernández Guerrero, M.L., Ramos, J.M., Marrero, J., Cuenca, M., Fernández Roblas R., de Górgolas, M. (2003) Bacteremic Pneumococcal Infections in Immunocompromised Patients Without AIDS. International Journal of Infectious Diseases. 2003 Mar;7(1):46-52.
Humulin (2016). Drug information retrieved from: http://humulin.com
Mayo Clinic (2016). Monoclonal Antibody Drugs for Cancer: How They Work. Retrieved from: http://www.mayoclinic.org/diseases-conditions/cancer/in-depth/monoclonal-antibody/art-20047808
Meisel, K. and Rizvi, S. (2011). Complications of Monoclonal Antibody Therapy. Retrieved from: http://www.rimed.org/medhealthri/2011-11/2011-11-317.pdf
More, D., (2016). Thrush from Inhaled Steroids. Retrieved from: https://www.verywell.com/oral-candidiasis-and-thrush-from-inhaled-steroids-82853
Mosby (2010). Mosby's Pharmacy Review for the NAPLEX. Muromonab CD3 (OKT3). Retrieved from: https://books.google.com/books?id=5_bRZj7X6_UC
National Library of Medicine (NLM) (2015). Drug Name Generics. Retrieved from: https://druginfo.nlm.nih.gov/drugportal/jsp/drugportal/DrugNameGenericStems.jsp
Sanofi (2016). Product Monograph. THYMOGLOBULIN (Anti-thymocyte Globulin [Rabbit]). Revised 3/7/16. Retrieved from: http://products.sanofi.ca/en/thymoglobulin.pdf
Seigel, T.A. (2012). Inadequacy of Temperature and White Blood Cell Count in Predicting Bacteremia in Patients with Suspected Infection. Journal of Emergency Medicine. 2012 Mar; 42:254.S.
Wikipedia (2016). List of Therapeutic Monoclonal Antibodies. Retrieved from: https://en.wikipedia.org/wiki/List_of_therapeutic_monoclonal_antibodies
Wilkinson, G.R. (2012). Drug Metabolism and Variability among Patients in Drug Response. Retrieved from: http://bonhamchemistry.com/wp-content/uploads/2012/01/Drug_Metabolism.pdf