Training Guidelines for the Special Care of Persons with Alzheimer's Disease and Related Disorders

(4.6 Contact Hours)

Written by: Karen (Karle) Truman, Ph.D.
To successfully complete this course and receive your certificate, you must read the content online or in the downloadable PDF, pass the post test with a 70% or better, and complete the evaluation form.
The price of this course is $29.00. You will only be asked to pay for the course if you decide to grade the post examination to earn a certificate with contact hours.
Corexcel is accredited as a provider of continuing nursing education by the American Nurses Credentialing Center's Commission on Accreditation (ANCC).
This activity was developed by Corexcel without support from any commercial interest.
It is Corexcel's policy to ensure fair balance, independence, objectivity, and scientific rigor in all programming. In compliance with the American Nurses Credentialing Center (ANCC) we require that faculty disclose all financial relationships with commercial interests over the past 12 months.
No planning committee member has indicated a relevant financial relationship with a commercial interest involved with the content contained in this course.
Corexcel's provider status through ANCC is limited to educational activities. Neither Corexcel nor the ANCC endorse commercial products.
Learning Objectives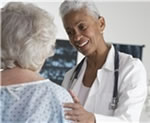 Questions about the content?
You may email the author directly with any questions and expect a reply within 48 hours. Contact Dr. Truman at drkaren@bookofhope.us
After completing this couse participants should be able to:
Explain the differences between Alzheimer's Disease and Related Disorders (ADRD) and the term "dementia."
Use basic strategies and guidelines for verbal and nonverbal communication.
Understand specific techniques for dealing with challenging behaviors in the early, middle, and late stages of Alzheimer's disease.
Promote independence through assistance with Activities of Daily Living in the early, middle, and late stages of Alzheimer's.
Recognize the grief process in family caregivers and how it relates to the multiple, ongoing losses associated with ADRD.
In Alzheimer's disease the mind dies first: names, dates, places – the interior scrapbook of an entire life – fade into mists of nonrecognition.

Matt Clark