Want to Win a Championship? Build a Better Team

March 11, 2008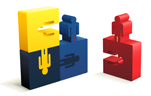 "Teamwork" has become one of those buzzwords that makes many of us flinch. Often team members work at cross-purposes and the team, rather than being an aid to productivity, becomes its greatest obstacle.
It doesn't have to be this way. Working with a team can improve morale, decrease frustration and increase productivity without overwhelming team members. Whether your "team" is a football team, a focused project group or the board of directors, better teamwork benefits the entire organization. The question is, how do you build a better team? Here are a couple of steps that can make your team a winner.
Step 1: Get All of Your Players on the Same Page
Start with achievable goals and clearly defined roles. Every person on your team should understand what they're working towards and what role each team member plays in achieving the goals (Maddux, 2003). For many of us, it's extremely frustrating to be on a team without clear direction and purpose. We show up to a few meetings, eat too many doughnuts, try not to fall asleep and then return to our desks to stare at the pile of work still waiting for us. There is a better way. If you're leading the team, be clear on the objectives of the group (Simmons, 1998). Put the goals in writing and make sure that each team member has a copy (Baker, 2003). Be specific. Include all project details and deadlines. Identify obstacles and limitations the team may face and work with the team to decide how the group as a whole can overcome them.
If you're not leading the team, you can still ask for clarification of goals and objectives (Covey, 2004). Maintain clear lines of communication with teammates. Be sure you understand your role on the team and that you have the resources to do your job. Gain an understanding of the roles of your teammates to avoid duplicating efforts.
Step 2: Train the Team
The second step in building a better team is to practice comprehensive team building up front. In an ideal world every team would be made up of perfectly complimentary personalities and everyone would always get along like the best of friends. The ideal world is a nice place, but we live in the real world. Teams are made of people, each of whom has unique personality traits and some of whom hardly know each other. Good teamwork does not necessarily require intricate interpersonal relationships or friendships. What it does require is effective team building (Willcocks, 1997) from the outset. Team building sessions, where members' concerns, problems and issues can be resolved, are a healthy way of preventing problems.
Team building should have two parts, one that focuses on group skills and one that focuses on project specific skills or training. The entire team should be brought together to encourage communication and ensure that everyone is moving in the same direction.
Building group skills can be a daunting task. How do you train adults to get along with each other and work as a team? The best place to start is with profiling and assessment tools. Individual behavioral assessments such as DiSC® are specifically designed for use in a business environment. They're invaluable in team building (Boydell, 2005) because they provide a clear picture of your team members, specifically what types of tasks they do best. Unlike generic personality tests, behavioral assessments evaluate team members for work related behaviors and styles. By comparing reports, team members gain a better understanding of the resources they have in their fellow team members. Since these kinds of assessments focus on work behaviors and not on personal issues, they provide a constructive tool for the work environment without making individuals feel vulnerable or targeted.
Specific team process tools like the Team Dimensions Profile help identify individual roles within a team to create a cohesive unit and prevent energy-wasting overlaps in effort. Even if you're not in charge of the team, some of these tools can still be of benefit to you. Behavioral profiles help to identify the strengths and weaknesses at work. Team process tools can help you identify the tasks that would be most suitable for each team member. Some people are great at coming up with ideas but lack the skills to move projects forward. Others aren't creative at all, but when given tasks they make sure they're completed before deadlines. There are other roles on the team and balancing them all makes for an effective workgroup. Recognizing personal traits and understanding the traits of others improves communication and help the team function more efficiently.
Project specific skills involve training the team in the tools they will use. An overview of necessary tools and skills, such as project specific software and analysis tools should be part of the basic team building process. After the initial overview, project specific skills are often best delivered in an as needed fashion, providing the training as close to the actual need as possible. If the project involves using new equipment that won't arrive for another six months, it is best to wait until closer to the actual arrival date to train those who will use the equipment. Providing team members with an overview of what tools and skills they will need will better enable all involved to work effectively.
Get to the Goal Line and Score
The final key to good team building is to remember that it is an evolving process. Ongoing assessment of progress and goals ensures the group is on track and continues to function efficiently. If you've provided clear direction and purpose, identified team roles, trained the team on project specific skills and set deadlines you should be well on your way to working well as a team.
Many of us function in a competitive environment where a focus on effective team processes can give us a leading edge. Building a better team requires defining the goals and roles of your team members, incorporating effective team building tools and remembering that team building is an ongoing dynamic process and the ability to adapt is crucial.
Sources:
1. Maddux, Robert B., and Barb Wingfield. Team Building: An Exercise in Leadership. 4th ed. Menlo Park, CA: Crisp, 2003.
2. Simmons, Annette. Territorial Games: Understanding and Ending Turf Wars at Work. New York, NY: AMACOM, 1998.
3. Baker, Sunny, Kim Baker, and G. Michael Campbell. The Complete Idiot's Guide to Project Management. New York, NY: Alpha Books, 2003.
4. Covey, Stephen R. The 8th Habit, From Effectiveness to Greatness. New York, NY: Simon & Schuster, 2004.
5. Willcocks, Graham, and Steve Morris. Successful Team Building. NY: Barron's Educational Series, Incorporated, 1997.
6. Boydell, Janet, Barry Deutsch, and Brad Remillard. You're Not the Person I Hired!: a Ceo's Survival Guide to Hiring Top Talent. Bloomington, IN: AuthorHouse, 2005.
7. Ritchey, Tom, and Alan Axelrod. I'M Stuck, You're Stuck: Break Through to Better Work Relationships and Results by Discovering Your DiSC Behavioral Style. San Francisco, CA: Berrett-Koehler, 2002.
About the author:
This article was co-authored by Kimberly Runyan and Don Bowlby. Kimberly Runyan is one of Corexcel's Senior Content Specialists. Don Bowlby is the Vice President, Operations at Corexcel, a company specializing in online continuing education and workforce training. For more information about Corexcel and the training materials they offer, visit www.corexcel.com.
"DiSC" is a registered trademark of John Wiley & Sons, Inc.