Performance Feedback Essential to Best-in-Class Organizations

April 30, 2007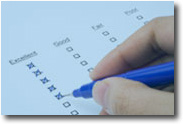 Best-in-class organizations concentrate on measured performance and frequent feedback. Top performing companies are increasingly looking at competency models to improve employee performance. One of the key ingredients to competency models is employee performance feedback.
Many consulting organizations have competency models that can be used in the development of human resource solutions. A key piece of the competency process is the performance management process.
Once you identify the behaviors of your high performers, you want to duplicate those behaviors across the entire organization. Figuring out how to get your employees to perform better doesn't have to remain a mystery. It can be as simple as starting with the basics of providing performance feedback.
Performance Feedback - A Key Component
Sharp Electronics Corporation developed a core competency model seven years ago. Senior Director of Corporate Training and Communications, Richard Montier, Vice President of Corporate Human Resources, David Alai, and President of Kramer Consulting Solutions, Diana Kramer teamed up to write an article for Training and Development magazine last July. In it they write, "The company set out to clarify the knowledge, skills and behaviors that would enable employees to achieve."
Their model emphasizes three broad areas of competency applications: developing people, selecting top talent and performance management. Emphasis on employee performance is based on mutual expectations.
Finding the Right Way to Give Performance Feedback
Feedback is a way of keeping your team members on track and doing the things that make your organization the class of your market. Feedback does require an investment of time, but it is worth it if your intention is to turn your organization into one of the top performers.
Positive assessment is a great way to motivate an employee and build self-esteem. Of course, this is done by acknowledging what the individual is doing well. It also eliminates performance challenges early on, so you can move the employee toward the competencies that are desired for maximum performance.
Modeling a Process that Works
You can reinforce positive behaviors in your organization and begin to replicate that behavior by modeling a performance feedback process with your team leaders. When creating the process you should include these elements:
Performance assessment
Base performance assessments on facts and behavior
Use positive feedback to motivate team members
Gain team member participation in their assessments
Gain team member commitment to the change needed to improve performance
Using a training program like Providing Performance Feedback can help you implement a process to help individual team members and the organization. Making this a part of your team leader training plans can help your organization strategically meet and exceed goals to become a "best-in-class" organization.
Quote for the Week
"All work done mindfully rounds us out, helps complete us as persons." - Marsha Sinetar
Sources:
Montier, R., Alai, D. and Kramer, D. (July 2006). Competency Models Develop Top Performance. Training and Development.
Vital Learning Corporation (2007). Providing Performance Feedback.