Online Writing Course | Effective Business Writing

Online Class Covering Effective Business Writing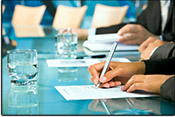 In professional settings it is extremely important to communicate well and to understand how to use writing to effectively communicate your thoughts. Effective business writing skills help you to communicate information efficiently and clearly. Our online writing course covers the importance of written business communications while teaching you methods for keeping your writing direct and concise.
Target Audience: Our online writing course is designed for people who are employed, or looking for employment in a professional setting. Learners should have a basic understanding of writing and grammar.
Video Presentations Author: Dr. Lisa A. Sisco is a professor in the Alan Shawn Feinstein Graduate School at Johnson & Wales University in Providence, Rhode Island. She teaches courses in written and oral communications in their MBA program with an emphasis on Business Writing. She is also the author of Strategic Communication: Persuasion at Work.
Self-paced online course
Online course cost: $125.00
Earn 5.0 PDUs or 0.5 CEUs
Start course right away
Online Writing Course Outline
Course Module 1 – Effective Communication
Reading
Why Effective Communication Matters
How We Communicate
Video / Exercise – Jargon in Writing
Factors for Effective Business Communication
Video / Exercise – Knowing Your Audience
Ethical Communication
Writing Self-Assessment
Course Module 2 – Organizing & Structuring Writing
Communication Checklist
Writing and Communicating with Purpose
Who is Your Audience? What Is Your Message?
Outlining: Formal and Informal
Brainstorming Techniques
Research
Overcoming Writer's Block
Self-Assessment
Course Module 3 – Writing Effectively
Readings
Writing Concisely
Writing Quickly
Simplified Structuring
Video / Exercise – Revising and Editing
Revising Jargon
E-mail
Additional Web Resources
Self-Assessment
Online Writing Course Key Features
Online, self-paced course
Open enrollment 24/7/365
No prerequisites
Interactive review exercises
Professional videos with complete transcripts
Ask the Expert feature - Submit questions directly to our experts
PDU/Contact Hour and/or CEU Certificate
Effective Business Writing Objectives
After completing Effective Business Writing, you'll be able to:
Recognize the difference between effective and ineffective writing.
Define the four major factors contributing to effective business writing.
Recognize the role of the audience and understanding their needs.
Employ formal and informal outlining techniques.
List and recognize techniques for overcoming writer's block.
Recognize the importance and dangers of writing quickly.
Revise for wordiness, unnecessary phrases, redundancy and jargon.
Write effective business emails and recognize the appropriate use of email in organizational settings.
Develop checklists for organizing, writing and revising.
Online Writing Course Credit & Completion Time
Access Time: You will have full access to Effective Business Writing for 30 days. For additional access time, consider enrolling in our Certificate in Business Communications. Certificate Program students get access to both classes, Effective Presentations and Effective Business Writing, for 60 days.
Completion Time: Completion time is dependent on several factors. The average completion time for this class is five hours. A student's prior knowledge, Internet connection speed, reading comprehension, optional exercises and videos all contribute to how quickly students complete our courses.
Certificate: Upon completion of this online course, you will be able to instantly print your certificate with CEUs and/or PDUs/Contact Hours. An average test score of 70% is required for successful completion.
Volume Pricing: To enroll 10 or more employees in our Online Writing Course, or to integrate any of our business skills programs with your Learning Management System, submit your request using our contact form or call 1-888-658-6641 during our normal business hours 9:00 am - 5:30 pm EST, M - F. One of our representatives will gladly assist you.